Welder Training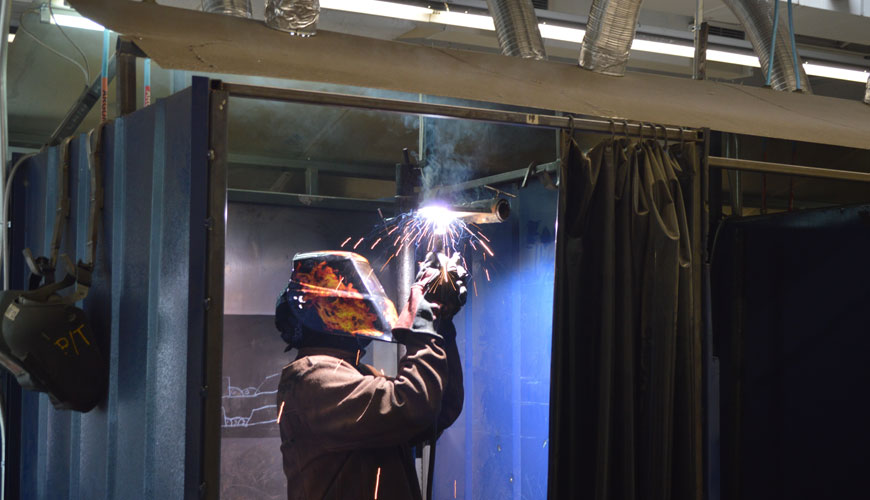 | | |
| --- | --- |
| Schedule | Full-time |
| Category | Trades |
| Accreditation | Certificate |
| Articulations | |
| Duration | 16 Weeks |
| Hours | 400 |

| | |
| --- | --- |
| Campuses Offered | |
| Toronto | 416-423-8188 |
| | |
| | |
*Approved as a vocational program under the Private Career Colleges Act, 2005
The Welder training certificate program consists of classroom theory that covers technical material and blueprints and practical hands-on training. Students will receive training in the use of the following equipment: Oxy-Acetylene Cutting, Shielded Metal Arc Welding (SMAW), Gas Metal Arc Welding (GMAW), Flux-Cored Arc Welding and Gas Tungsten Arc Welding (GTAW). In addition, students will be trained to use a wide variety of support equipment including portable grinders and many small hand tools. The Welding Training certificate program will also prepare you for Welding certification.
For detailed information, call our campus now!
Welding class projects will help you with the transition from welds to actual work. All Welding Technology tests are based on Canadian Welding Bureau (CWB) and Technical Standards and Safety Authority (TSSA).
Note: The Canadian Welding Bureau (CWB) requires testing in the following sequence: flat, horizontal, vertical and overhead.
Course Features
Schedule

0

Quizzes

0

Category

3 hours

Accreditation

All level

Articulations

English

Students

0

Assessments

Yes
Program Overview
Introduction and Safety, Fundamentals of Welding
Blueprints Reading and Symbols in Drawings for Welders
Mathematics and Metallurgy in Welding
Oxy-Fuel Gas Cutting
Shielded Metal Arc "STICK" Welding (SMAW)
Gas Metal Arc "MIG" Welding (GMAW)
Flux-Core Arc Welding (FCAW)
Gas Tungsten Arc "TIG" Welding (GTAW)
Cutting Processes (Plasma and Air-Carbon Arc)
Exams and Job preparation
Admission Requirements
An Ontario Secondary School Diploma or
Students are 18 years of age or older and pass the program entrance examination
Please see Admissions for detailed information.
Welders operate welding equipment to weld ferrous and non-ferrous metals. They are employed by companies that manufacture structural steel and platework, boilers, heavy machinery, aircraft and ships and other metal products, and by welding contractors and welding shops, or they may be self-employed. (click here to see details)

Possible Careers NOC: 7237
Assembly Line Welder
Aviation Welding Technician
Brazing Machine Operator and Setter
Electric Arc Welder
Flame Cutter
General Welder
Grinder
Iron Worker
Journeyman Welder
Laser Welding Operator
Pipeline Welder
Pressure vessel Welder
Production Welder
Soldering Machine Operator
Spot Welder
Submerged Arc Welder
Welder-Fitter
Welder Fabricator
Common duties
Read and analyze welding blueprints or specifications
Using flux-cored arc welding (FCAW), gas metal arc welding (GMAW), gas tungsten arc welding (GTAW), oxy-acetylene welding (OAW), plasma arc welding (PAW), shielded metal arc welding (SMAW), resistance welding and submerged arc welding (SAW) to fuse metal parts with manual or semi-automatic welding equipment
Using manual or semi-automatic flame-cutting, brazing, soldering equipment
Using brakes, shears and other metal shaping machines
Repair worn metal parts by welding extra layers
Using welding machines such as spot, butt and seam resistance.
Using gas and arc welding machines to repair metal parts
Using brazing or soldering machines to connect metal parts or to fill holes and indentations.
Start, end, adjust and monitor robotic welding production line
Maintain and repair welding, brazing and soldering equipment
Adjust welding heads and tools