Diploma of Hospitality and Tourism Management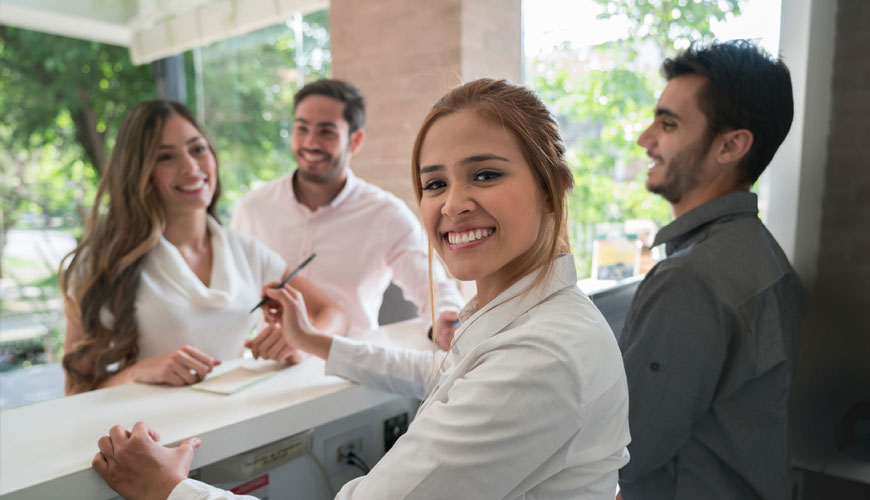 | | |
| --- | --- |
| Schedule | Full-time |
| Category | Business |
| Accreditation | Diploma |
| Articulations | Cape Breton University |
| Duration | 50 Weeks |
| Hours | 1000 |

| | |
| --- | --- |
| Campuses Offered | |
| Scarborough | 416-383-1608 |
| Brampton | 905-789-0666 |
| | |
*Approved as a vocational program under the Private Career Colleges Act, 2005
Stanford's Hospitality and Tourism Management Diploma program provides students with the foundation for a career within the hospitality and tourism industry. Our program is centered on best business practices and skills related to the industry in Canada and abroad. In addition to program specific courses, students receive a solid foundation of critical skills such as problem solving, presentation, communication, team dynamics and analytical abilities and further apply these to a number of different industry case studies covering a broad range of sectors.
Stanford International College offers this program in partnership with the  American Hotel & Lodging Educational Institute (EI). The EI is widely recognized as the pre- eminent leader in hospitality certification. The Hospitality and Tourism Management program at Stanford College uses AHLEI textbooks, curriculum and examinations and helps you meet the requirements for AHLEI industry certification. Graduates of our diploma program will also be awarded an AHLEI Hospitality Management Diploma, a Hospitality Operations Certificate and a Rooms Division Specialization Certificate. AHLEI credentials are recognized globally.
Articulation – University Degree – Credit Transfer
Graduates of the SCBT Hospitality program may articulate to Cape Breton University (CBU) and receive a credit transfer of 30 credits towards the completion of the 3 year Bachelor of Hospitality and Tourism Management Degree Program. (Articulating students must meet the admission requirements of CBU.)
Course Features
Schedule

0

Quizzes

0

Category

3 hours

Accreditation

All level

Articulations

English

Students

0

Assessments

Yes
Program Overview
Hospitality Today
Managing Housekeep Operations
Hospitality Facilities & Design
Hospitality Financial Accounting
Managing Hospitality Human Resources
Supervision in the Hospitality Industry
Managing Front Office Operations
Security & Loss Prevention Management
Management of Food & Beverage Operations
Marketing of Hospitality Services

Bar & Beverage Management
Managing Service in Food & Beverage Operations
Training & Development in the Hospitality Industry
Managing Technology in the Hospitality Industry
Planning & Control for Food & Beverage Operations
Contemporary Club Management
International Hotel Management
Understanding Hospitality Law
Food Production Principles
Admission Requirements
An Ontario Secondary School Diploma or eqivalent, or
Students are 18 years of age or older and pass the program entrance examination
Please see Admissions for detailed information.
Hospitality and Tourism managers plan, organize, direct, control and evaluate the operations of an accommodation establishment or of a department within such an establishment. As part of a Customer Service Team they may also make room reservations, provide information and services to guests and receive payment for services. (click here to see details)
Stanford graduates are able to focus their career path towards the multi-faceted hospitality, travel and tourism industry and apply their sound knowledge of the industry and business in a variety of operational positions in industry sectors such as accommodation, niche travel, tour operations, product development and packaging, special events management, e-business, and sales and marketing. Employment may be found in casinos, clubs, hotels, motels, resorts, student residences and other accommodation establishments. In addition, positions related to the Travel industry such as Railways and Cruise ships provide additional employment opportunities. NOC: 6425
Graduates of the Hospitality and Tourism Diploma program may apply for positions such as:
Hotel & Restaurant Manager
Front Desk Manager or Clerk
Night Clerk/Account Manager
Seasonal Resort Manager
Special Events Manager
Hotel Reservations Manager/Clerk
Guest Service Agent
Bed and Breakfast Operator
Food and Beverage Manager
Railway Catering Manager
Cruise Ship Bar and Beverage Manager